Training
Helping You Achieve Excellence
Exceptional training is a vital component of Walter E Nelson. Our knowledgeable sales staff can work with your facility's staffs to develop many different types of training programs to help you standardize, prevent slip and fall hazards, improve worker safety, and correctly use products designed to save our environment. These training programs can be designed to facilitate different class sizes in your facility or at one of our Walter E Nelson locations.
Here's an example of some of our training programs we can customize for you...
Health, Safety and the Environment
Worker Right to Know Training
OSHA Bloodborne Pathogens Standards
How to Select Safer Cleaning Products
Indoor Air Quality - Cleaning for Health
Green Cleaning Products and Processes
Cleaning and Disinfecting
General and Advanced Cleaning Techniques
Cleaning and Disinfecting the Restroom Environment
Housekeeper's Basics of Infection Control
Basic Restroom Care
Cleaning in the Classroom
Hard Floor Care Training
Basic Hard Floor Care
Solving Tough Hard Floor Care Problems
Carpet Care Training
Fundamental Carpet Care Procedures
Carpet Care Workshop
Spotting and Stain Removal Techniques
Standardization, Training and Benchmarking
Establishing Cleaning Standards
In addition, we can provide information on...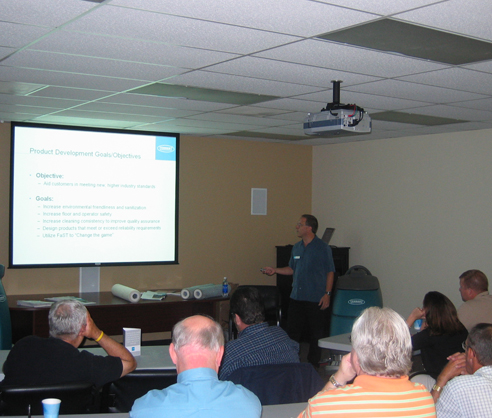 Community Sustainability – Walter E Nelson is committed to our environment. If your facility is looking to become more conscious about worker safety, health and the environment by using products and processes that are safer for people and our planet, please contact us.
Infectious Control - Many workers miss days because of illness from being sick through something they contracted from someone else. Hand washing is still one of the most effective ways to reduce the spread of germs. When hand washing is not possible, the use of a hand sanitizer has been proven to be effective.
Site Reviews and Workloading Analysis - With all the challenges we face with price increases, Walter E Nelson can do an on-site review at your facility to help you with your budgets. Do you have the correct liner? Should you use roll towels instead of folded towels? Are you using duplicate products to clean your facility?
We have exclusive access to the most comprehensive workloading and site software available including the Hillyard CCCP program (pronounced "Cap") and the Spartan CompuClean Custodian Management Software.
Planned Maintenance - The cost of a piece of equipment not in use can become extremely expensive. Having a crew that is well informed and properly trained will help to motivate them to keep the equipment clean and running smoothly to avoid costly down time.
ISSA Training Standards Certification - The Cleaning Management Institute (CMI) from ISSA sets the "Standard" in training excellence. CMI training is available for Frontline Workers and Supervisors and provides an easy and affordable way to improve your skill set and achieve certification.
To learn more about the CMI program, visit the ISSA Training Standard page.